---
Founded 2016 | HQ Torino, Italy | <20 employees
TCLab's AIDA document capture product contains innovative features that separate it from the crowd. We particularly like the pragmatic, hybrid approach to capture and automation that does not rely solely on AI but combines the best of both worlds, templating (albeit simple, no code) and AI.
---
The Company
Technology & Cognition Lab (TCLab) was founded in 2016 by Fulvio Molinengo and Giorgio Xhaxho, and it is headquartered in Torino, Italy. The software company evolved from the founders' work as Xerox value added resellers through their mother company XHECOM, which resells and implements Xerox DocuShare and DocuShare Flex products. In late 2018, TCLab launched its modern take on document capture in its AIDA (AI Document Automation) product. To date, AIDA has been deployed in the United States and Europe, particularly Italy.
The Technology
Though the name AIDA suggests this is an AI-driven capture product, a closer look reveals that AI is only a part of the story. Before diving into the product, it's essential to provide some context. AIDA typically focuses on traditional and practical capture use cases – for example, invoices and receipts – though it's certainly not limited to that. So, at a basic level, AIDA focuses on basic capture requirements. However, it makes those basic but critical use cases much more straightforward and intuitive to implement than traditional approaches have.
To understand how AIDA works, let's start at the top with its mobile UI, which is quite impressive. AIDA's key differentiator is that it uses micromechanics (aka personal intelligence), which focuses on the user's unique movements and clicking speed, an approach typically used in video games. This is one of the most intuitive mobile apps we have seen, as it fully utilizes the iOS screen functionality to allow the user to scan and easily select and point to relevant fields for capture and categorization, etc. The app also remembers and learns from the user's point-and-click actions, making future interactions increasingly intuitive, acting as an automated personal assistant. But here, AIDA uses these techniques and technologies in its UI experience (see Figure 1).
The capture software running in the cloud does what you expect it to, but the configuration and approach are intriguing. Essentially, AIDA runs as a hybrid template versus an AI capture system. Templating happens automatically, as users are guided through a wizard that allows them to combine just over 20 data formats into numerous configurations of document types (currently 2,500) via a code-free interface and without the need for training. The AI then comes into play as it learns and supports the new document types and looks for errors and inconsistencies in future scan uploads.
Interestingly, AIDA stores the data in a graph database, and as far as we know, is the only capture vendor to do so. The graph database (aka knowledge graph) is used for storing and managing captured data, while in most other capture systems, data is stored in a traditional relational database. This approach allows AIDA to easily create – and for the user to detect – multiple and interconnected relationships between documents. Graph databases and knowledge graphs are gaining traction within the broader information management sector. But this is the first time we have seen this used in a capture product, and we applaud this approach as it essentially adds a layer of rich insight and enables advanced searching and automation of the captured documents. Such an approach also provides the potential to eliminate the use of folders for managing captured content, like Microsoft Syntex's approach.
AIDA provides some automation capabilities, such as routing and saving captured content to different repositories including SharePoint or Dropbox. The in-built automation capabilities are sufficient to meet the needs of many basic capture workflows. However, though not the focus of this report, we noted that TCLabs also provides an AI-enabled business process management (BPM) product called "Actio" for more complex process requirements.
Finally, from an architectural standpoint, AIDA runs on an AWS infrastructure, and any data passing through the system is encrypted throughout its journey and while at rest. Notably, this encryption includes the documents and the associated underlying databases and is GDPR and HIPAA compliant. Finally, AIDA comes with a range of pre-configured integrations including SAP and, of course, Xerox devices via ConnectKey and DocuShare.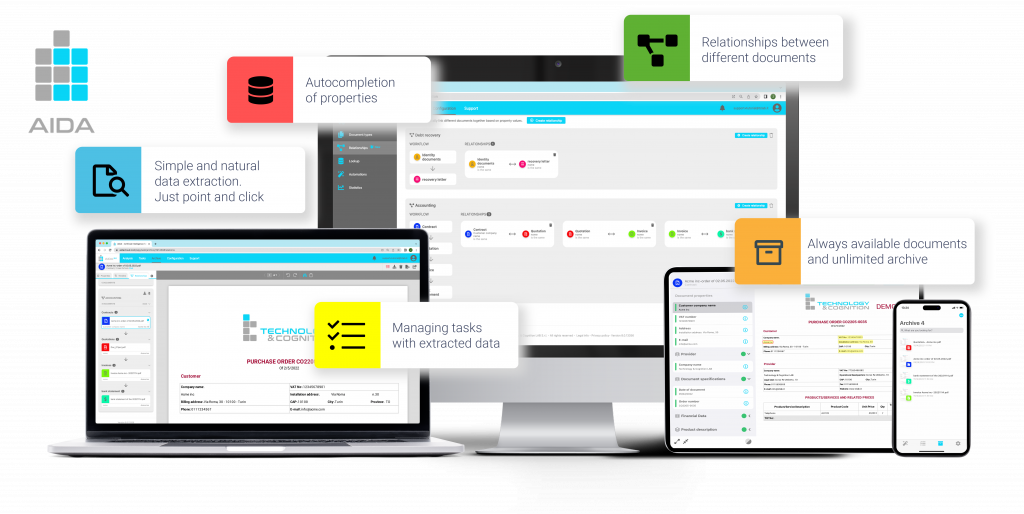 ---
Our Opinion
At first glance, AIDA is yet another AI-driven IDP product in an already busy market. A closer look reveals some innovative and arguably unique features that separate it from the crowd. We particularly like its pragmatic, hybrid approach to capture and automation that does not rely solely on AI but combines the best of both worlds, templating (albeit simple, no code) and AI. The result is a system that can be deployed quickly and can encompass an exceptionally wide array of document types with minimal effort.
Advice to Buyers
Our advice to enterprise buyers is simple: try the free version of AIDA and see if it fits your departmental or enterprise needs. But moving forward, we think the critical buyers for AIDA may well be larger enterprise software firms that need innovative capture technology to meet customers' and employees' mobile needs, and more prominent business application vendors searching for a partnership/OEM to add easy-to-use advanced capture functionality.
---
SOAR Analysis
Strengths
Combines strong consumer and enterprise technologies
Hybrid AI approach separates it from the IDP crowd
Aspirations
To grow beyond Italy and Europe
Become a market leader in AI-driven document capture
Opportunities
Potential to build strong OEM and technology partnerships
Take leadership position for mobile UI in capture
Results
xcellent reviews from early adopters
Gaining traction in Italy and the UK
---
Attribution-NonCommercial-NoDerivatives 4.0 International
CC BY-NC-ND 4.0 license