---
Founded 2014 | HQ Amsterdam, The Netherlands | <50 employees (approx.) | Post-revenue start-up
LTO Network is the company that built "the network" – an enterprise workflow and information validation/management hybrid blockchain platform used to secure, verify, and exchange business critical information. LTO Network has a unique, interesting business model: enterprise blockchain functionality combined with a crypto revenue model. The public LTO coin market cap is over US $125 million as of publication.
---
The Company
LTO Network began in 2014 as a spinoff of FIRM24 founded by Rick Schmitz (current CEO), Martijn Migchelsen (current CFO), and Arnold Davis (current Lead Architect). At the time, they recognized workflow management as a marketplace gap, and over time, blockchain technology was recognized as a solution capability differentiator. The spinoff was originally called LegalThings but became LTO Network when the network itself was launched in 2018. The firm is headquartered in Amsterdam, The Netherlands. LTO Network has received US $5.2 million in funding (an Initial Coin Offering) from ZBS Capital. In December 2020, LTO Network merged with VIDT Dataline, a blockchain-powered document certification platform.
The Technology
LTO Network is a hybrid blockchain application development platform for securing, verifying, and exchanging enterprise information. That's not unusual, as there are many such platforms and applications around today; however, LTO Network stands apart. What distinguishes LTO from most enterprise blockchain applications and platforms is that cryptocurrency tokens play a key role both technically in the operation of the network and through its revenue-generation capabilities. This is highly unusual, as most enterprise blockchain solutions steer as far away as possible from the crypto world. LTO Network leverages crypto in the following ways:
LTO tokens are required to pay for key LTO Network functions. There is one LTO token, and three somewhat interchangeable token types that can be swapped 1:1 with LTO: BEP2, ERC20, and BEP20.
Organizations can earn LTO rewards by hosting or participating in validator (Leased Proof of Stake) nodes.
An entire token management approach exists to manage token supply, incentives, and flow.
LTO coins are listed on several exchanges, including Binance and Uniswap.
Though this use of crypto assets sets LTO Network apart, at a practical level the business capabilities it provides are far from unusual. Rather, they meet regular everyday needs, for example:
Entity identification and validation: publish a public certificate.
Anchor business data: add trusted, immutable information to the blockchain.
Decentralized workflow: share data and processes between organizations.
So, what we have here is a truly hybrid set of technologies: hybrid in terms of public and private blockchain layers, and hybrid in terms of regular business capabilities underpinned by cryptocurrency transactions. Two practical elements of this innovative approach really stand out for us:
1. The use of a "permissionless" trust mode. In this approach, identity is a party's (business or person) public key address on the blockchain and is linked to the private key. Trust is the knowledge that a key's owner is who they say they are. Permissionless trust is accomplished via the network rather than a purported trusted source such as a bank or government.
2. The revenue model. LTO Network (the company) generates revenue by requiring developers to purchase LTO coins in order to use key app and network functionality. At the same time, partners are encouraged to build apps on the network with the opportunity to mine LTO coins.
The platform itself is also a hybrid solution as there are both public and private layers:
The public layer performs enterprise information (including identity) validation. Info stored on the blockchain cannot be changed. Information validation is performed by consensus nodes using a Leased Proof of Stake consensus algorithm.
The private layer is used by organizations to develop private blockchains that share information between organizations using smart contracts ("Live Contracts" in LTO Network vernacular). Once private data is authenticated, it can be anchored and made visible on the public blockchain.
What we have here, in effect, is a novel business model driven by the founders' belief in the future growth and adoption of cryptocurrency. Fortunately, LTO Network has also given a lot of attention to the practical business uses of the network beyond the revenue model itself. It has a strong focus on document workflows and authentication, and also strongly supports GDPR compliance as it is a European firm. Ultimately, though,
LTO Network is a platform for others, particularly third-party system integrators, to build upon (see Figure 1). Hence it comes complete with a robust set of developer tools and APIs, and supports JavaScript, PHP, Python, and Go libraries. As of today, a number of solutions/applications have already been delivered and are freely available to access:
Verified Document Workflow: Enables communication and management of trusted documents and related business logic between parties in areas such as real estate leases and government permits.
Traceability: Allows creation of immutable certificates of authenticity, certificates of ownership, and verifiable timestamps. Used for artwork and diamonds.
Digital shareholder registration: Enables tracking of shareholder stock registration on the blockchain. Particularly useful for private-listed firms.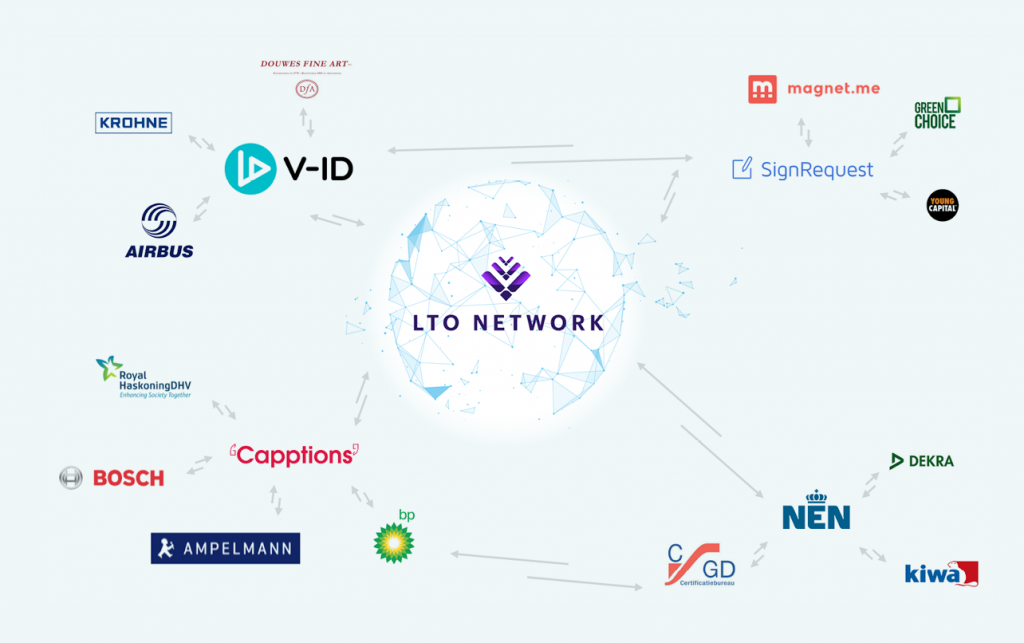 ---
Our Opinion
Business models for enterprise blockchain applications/development platforms are typically based on traditional business models such as product license and services fees. The interesting thing about LTO Network, from an enterprise blockchain perspective, is the new business model it follows based on cryptocurrency. Is this the wave of the future? Maybe, and it's certainly a novel platform for developers, VARs, and SIs to consider and experiment with in the enterprise space to generate new forms of revenue. LTO Network partners can make money within the network as well, if their solution takes off, as they are crypto miners.
Advice to Buyers
LTO Network is looking to leverage partners to develop apps that can take advantage of the LTO Network platform capabilities. Organizations that are planning to develop new document management blockchain apps, be they existing technology vendors, SIs, or VARs, should consider using the LTO Network platform. It offers the potential both to generate significant value by leveraging the LTO Network platform to develop apps, and in turn to profit from LTO coin mining.
---
SOAR Analysis
Strengths
Novel crypto/enterprise blockchain approach
Public, permissionless identity platform
Solid development platform
Existing client base and frameworks
Aspirations
Become trusted platform for identity-based transactions
Rapidly grow the business outside of Europe
Grow revenue based on transaction scaling
Cross-chain and DeFi plans
Opportunities
Growth through increased enterprise blockchain adoption
Growth through revenue generated by third parties leveraging platform
Published roadmap of increased enterprise blockchain functionality
Results
Major organizations such as Airbus and the UN already use the platform
Strong network activity growth in 2020
The crypto-based platform is becoming popular