---
Founded 1999 | HQ McLean, VA | 1,800 employees (approx.) | $369M revenue
Appian's low-code development interface enables customers to develop robust and specialized business applications quickly and relatively easily. We like this approach as it's a departure from the more typical work of pulling together multiple, complex, third-party elements that require expert developers to get anything done.
---
The Company
Appian was founded in 1999 and is headquartered in McLean, Virginia, with offices across North America, Europe, and the Middle East. Appian's CEO is Matt Calkins, one of the company's original founders, and the company is publicly traded on the Nasdaq (APPN). Appian has estimated revenues of $369 million in 2022 and is currently growing at more than 20% year over year, with reported cloud subscription revenue growth of 37% for Q1 2022 compared to Q1 2021. The company employs around 1,800 people. Appian acquired the RPA platform Jidoka (Novayre Solutions SL) in 2020 and process mining firm Lana Labs in 2021.
Though best known for its low-code process automation and application development technologies, Appian's Intelligent Document Processing (IDP) is now a substantial and growing part of the company's business.
The Technology
The Appian platform encompasses everything from RPA to case management through business process management (BPM) that is accessed through a single low-code development interface. One of the key distinguishing elements of the Appian platform is its commitment to low-code development, making it relatively simple for business users to build out their specific business applications. The platform includes:
Powerful BPM capabilities
RPA tools
Case management
Business rules and integration with AWS
AI/ML modules
IDP
These elements are pulled together via its low-code application development environment. The stated goal of the platform is to provide an easy-to-use and fast-to-deploy system to automate business processes. This is where things get interesting. Most capture systems have some form of workflow, but typically they rely on the buyer/developer integrating the capture system with complex BPM tools and business applications. Appian offers an entire process application system, including capture, in one bundled low-code environment, thus allowing you the potential to build end-to-end business applications (see Figure 1).
The goal of IDP within the Appian platform here is simple – to convert unstructured data (documents and forms) into structured data that can be processed. Much of that forward processing will be repetitive and straightforward: for example, capturing an invoice number and inputting it into the application. For such repetitive tasks, the platform provides its own RPA tools rather than requiring you to license and deploy a third-party system.
For more complex processing, it provides its own BPM and case management capabilities. Looking deeper into the specific IDP service, we can see that it does more than simple OCR. It provides data extraction and auto-categorization functionality, it can handle forms recognition, and it recently added improved handwriting recognition and image extraction. Once deployed, IDP will typically require an end user to validate the process. Still, as it is underpinned by machine learning, this requirement would decline over time as the system learns the vagaries of the document elements.
Appian also provides templated starter elements as standard to identify common formats such as purchase orders, invoices, receipts, or claims. Users can further modify these to meet their specific needs or add different document types to the system. One neat element is that although document capture is usually designed to be the original input in a process, IDP can be deployed anywhere along your process flow as a sub-process because of the low-code development environment and the fact that IDP is provided as a microservice.
On the surface, then, we have a bunch of process tools pulled together through a unified low-code development environment, where IDP can be leveraged, and that's good. But in our analysis, the secret sauce in the Appian platform, alongside its low-code approach, is its multi-channel and orchestration facilities that let you efficiently orchestrate and monitor process and task activities across these functional elements into a single whole. Moreover, it is easy to develop various interfaces for your applications, be they mobile or desktop, and configure and manage multiple channel inputs into the process modules.
The Appian platform comes with a wide range of zero-code integration points to Salesforce, SAP, Oracle, Dropbox, etc., alongside a comprehensive range of APIs like REST and SOAP and connectors to most database types.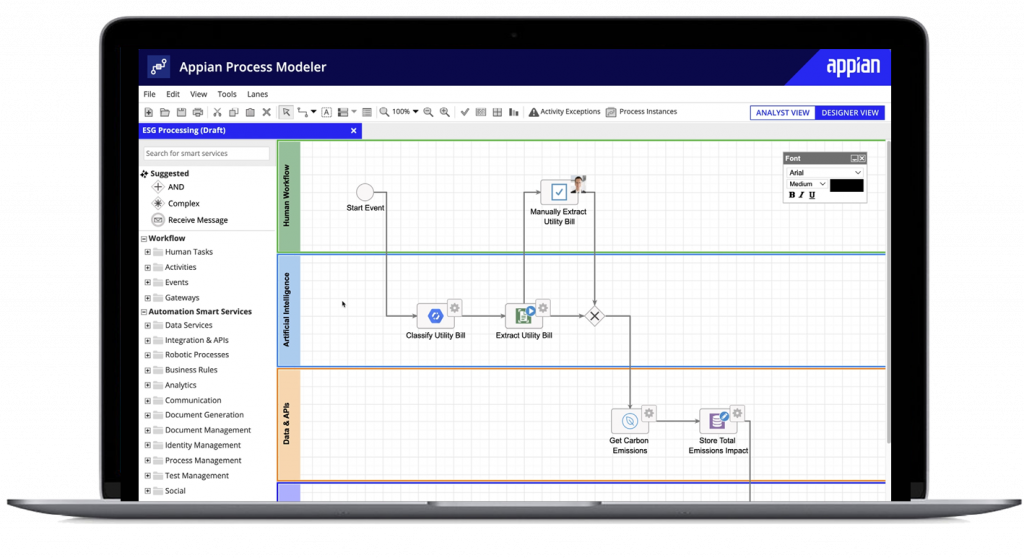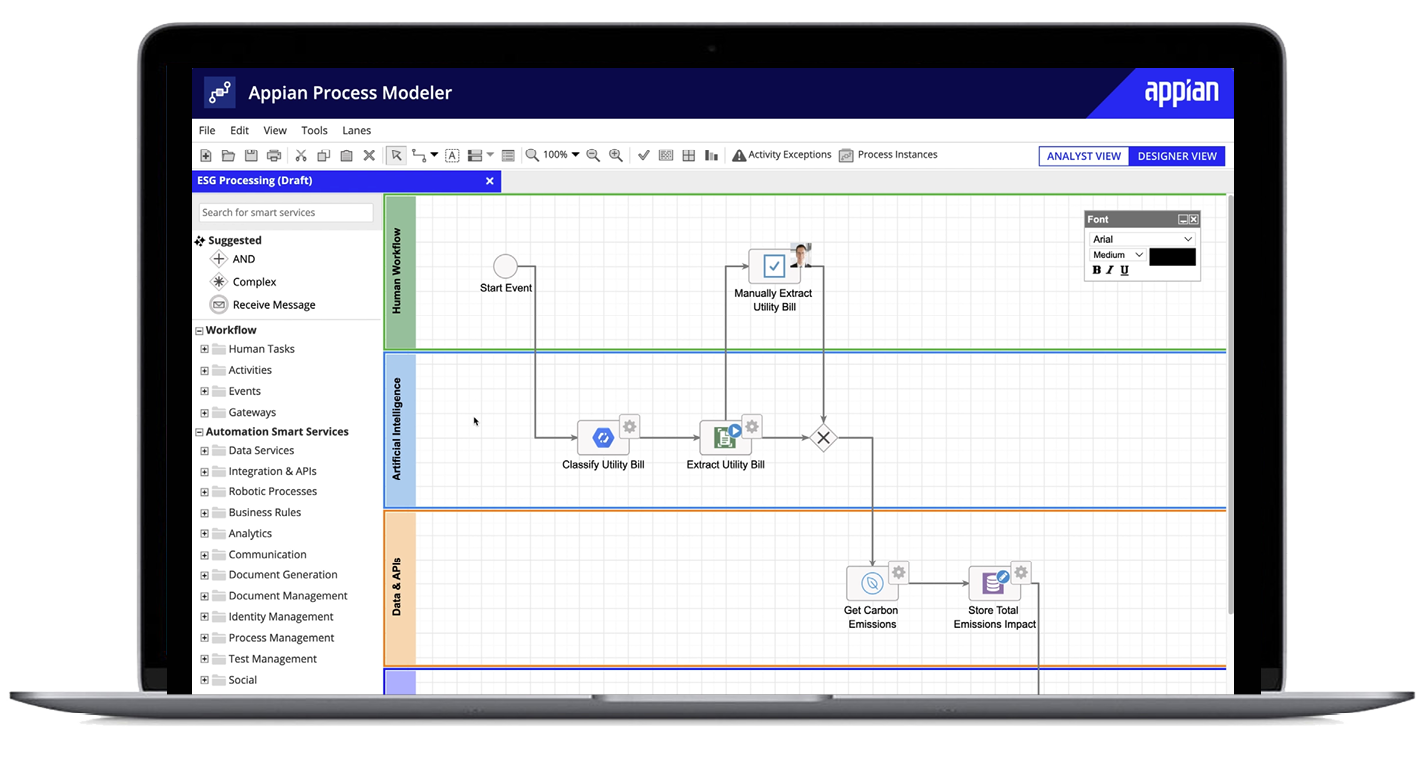 ---
Our Opinion
Appian's technical strength and focus is its low-code automation software development platform. This low-code approach enables customers to develop robust and specialized business applications quickly and relatively easily. Appian should be considered and shortlisted in situations where capture is a part of a broader application or modernization project, as its focus is to provide a full array of process options (from repetitive simple tasks to complex processes) in a low-code environment that can quickly build targeted applications for your business. We like this approach as it's a departure from the more typical work of pulling together multiple, complex, third-party elements that require expert developers to get anything done.
Advice to Buyers
Consider the Appian platform when you are looking to build out new standalone applications and new applications that extend your existing operating infrastructure. True to the firm's roots, its platform is process-centric. That is good whether you require simple repetitive task automation (RPA) or more sophisticated BPM or case management: all the elements you require are available in one place, with the added advantage of being accessed through a low-code development environment. The flexible and affordable pricing and free community edition of the platform make Appian a relatively low-risk option to check out.
---
SOAR Analysis
Strengths
Broad technology platform encompassing process automation, case management, RPA, mobile applications, and business insights
Impressive and extensive low-code development environment
Aspirations
Further extend low-code, process automation, RPA, and capture to create a new market option
Challenge and unseat the traditional business application market with a more adaptable and agile alternative
Opportunities
Expand into relatively greenfield markets such as energy and supply chain
Provide a comprehensive platform for major system integrators to build upon
Results
Deep relationships with major SIs
An Appian customer renewal rate of around 99%
---
Attribution-NonCommercial-NoDerivatives 4.0 International
CC BY-NC-ND 4.0 license